Among his paintings are the following :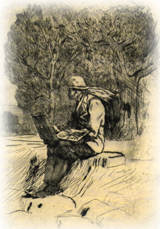 "William Lesly"
Painting


"... I enter into the religion of Art.
I paint and no longer look at women..."

Although Rops' ability as a painter has received far too little recognition, he nonetheless had a captivating style, often very talented. Although in his paintings he remains faithful to the theme of the woman, to portraying the customs of the time, he does this in an infinitely more serene way. Far removed from the femme fatale which he portrays in a very intellectual manner in his etchings, she rediscovers a taste for everyday life, she finds complete peace of mind.
A lover of the great outdoors, Rops paints the countryside in a semi-impressionistic style. Sensitive to changes in the weather and surroundings, he conjures up Nature for us through his travels: the North Sea, the Ardennes, Brabant, the area between the Sambre and the Meuse, Spain and Scandanavia ...
"Whenever life is harsh to me, I go the forests and the beaches, I take refuge like a wounded animal and Nature cradles me, watches over me and restores me..."
(Rops, 1891).
Peace, calm and serenity are uppermost in his paintings, far removed from the frenzy and perversity of the city.