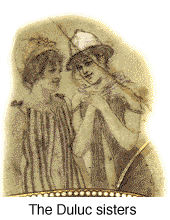 1874-1888
Rops moved definitively to Paris where he lived with the Duluc sisters, having met them six years earlier. His relationships with Aurélie and Léontine Duluc were the only ones to last among his many romantic liaisons. Léontine and he had a daughter, Claire, who married the Belgian writer Eugène Demolder.
At this time, Rops was the best-paid illustrator in Paris and worked for a good number of writers: Théophile Gautier, Alfred de Musset, Mallarmé, Barbey d'Aurevilly, Joséphin Pelladan, Octave Uzanne…
He drew on his numerous journeys (Norway, Sweden, Spain, Hungary, America, Canada…) and his visits to the Belgian coast for inspiration in developing his talents as a painter.
A period of maturity, where he also showed a remarkable talent for drawing, using with dexterity and refinement both pen and pencil, often enhanced with gouache, watercolours or pastels. He created "La tentation de Saint Antoine" (the Temptation of Saint Anthony), and "Pornokrates" (1878), the follow up to "Cent légers croquis pour réjouir les honnêtes gens" (100 lightweight sketches to delight honest people), "Les sataniques" (The Satanists)(1882) as well as the series of "Diaboliques" (Diabolicals) for Barbey d'Aurevilly (1884).
In 1886, Rops became a member of the XX Group, set up in 1884. The beginning of his friendship with the Liege artist Armand Rassenfosse. Together they developed a special etching technique and invented a soft transparent varnish, the "Ropsenfosse".