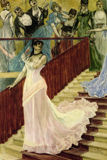 "L'Attrapade"
"The Scolding"
In 1877, Rops stayed in Paris where he was very impressed: The Parisian lifestyle was for him, the paroxysm of modernity. He dedicated himself to illustrating it artistically. L'Attrapade (The Scolding) perfectly captures the Parisian atmosphere of the Second Empire that Rops loved so dearly. About this work Rops wrote:
"The more I live here, the more I love Paris, each day I discover a new quality in her and it is only after staying here for a while that you can appreciate how fine, intelligent, artistic and good-natured at the same time this city is, in a word it is adorable."
About this work Rops wrote:
"(...) this machine (...) is the most important thing that I do."
But life in Paris was expensive. Soon Rops depended on the sale of L'Attrapade to rejuvenate his finances:
"I really do not know what will happen if l'Attrapade does not sell. I rely on your valiant friendship(...)", he wrote to his friend François Taelemans.
L'Attrapade was exhibited during Rops lifetime, along with "La Tentation de Saint-Antoine" (The Temptation of Saint Anthony) at the first annual trade fair of "Art Indépendant" at the Palais de l'Industrie in Antwerp, in March 1887.

Text: B. Bonnier, N. Malinconi, V. Carpiaux - Information
Translation: Caroline McLoughlin
Design and Production: Infographie-Ciger s.a.
Copyright © ciGersoft 1995-1998 - All Rights reserved.