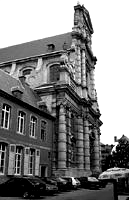 Saint-Loup Church, considered to be the most perfect example of a Baroque style church in Belgium, was built between 1621 and 1645 having been designed by Brother Huyssen, architect and member of the Jesuit Community. The Athénée Royal which adjoins the church, originally a Jesuit college, was built prior to the church, as early as 1611 and bears witness to the teaching activities of the Jesuit Community.
The interior of the church is striking due to the quality of the decor. It is a place of scenic beauty where the yellow sand of the vault in Maestricht tufa, converses with the red marble of the annulated columns, the blackness of the stylobates, the green marble of the cartels and the richness of the wooden panelling.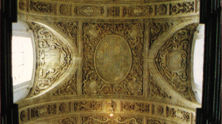 Charles Baudelaire, during a visit to Namur in the company of Félicien Rops described this edifice of sinister and courtly wonder.
In Pauvre Belgique he wrote:
"Saint Loup is different from anything I have ever seen by the Jesuits. The interior of a catafalque decorated in black, pink and silver. Confessionals, each different in style, fine, subtle and baroque, a new antiquity. The Church of the Beguine convent in Brussels is a communicant. Saint-Loup is a terrible and delicious catafalque. The supreme ruler of all these Jesuit churches, flooded in light and huge windows, Boudoirs of Religion, ..."
Text: B. Bonnier, N. Malinconi, V. Carpiaux - Information
Translation: Caroline McLoughlin
Design and Production: Infographie-Ciger s.a.
Copyright © ciGersoft 1995-1998 - All Rights Reserved.