Namur - Félicien ROPS Museum

Museums of Namur | Museums around the world | Guided tour

---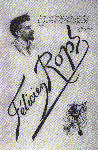 The Félicien Rops Museum is located in a former hôtel de maître (period house), at the heart of the old part of Namur. It is located near the house where the artist was born and also near Saint Loup Church, a baroque building, considered to be an important landmark in Namur's cultural heritage.

The museum has on display all aspects of the artist's work (1833 - 1898), the important stages of his life, (Namur, Brussels, Paris), the people he met and his artistic creations. A technical introduction to the diversity of his talents is also offered including etchings, drawing and painting.

The museum is the property of the Province of Namur, which since its establishment in 1964 has continued to increase its collection, through the help of the French Community of Belgium and private patrons.

In addition to the presentation of the collections, the museum offers a range of services, including guided tours, temporary exhibitions, activities for both children and adults, publications on the artist and his century, a centre for documentation and audio-visual displays.

---
Expositions temporaires et stages
---
Enter into the Museum
Exposition Félicien Rops 1896

If you require further information you may fill out a request form or it is also possible to book a tour in advance.
---
Useful informations

Adress:
Rue Fumal, 12
B5000 Namur
Tel.: +32 81 220 110
Fax.: +32 81 225 447
Curator:
Madame Bernadette Bonnier
Opening hours:
10 a.m. to 6p.m., from Easter to Hallowe'en
10 a.m. to 5p.m., from Hallowe'en to Easter
Closed:
Mondays, (except July and August) and between Christmas and the New Year.
Admission prices:
Adults: 100 francs
Senior Citizens, students and groups (minimum of 10 people): 50 francs
School groups: 25 francs
---
Bernadette Bonnier
Last modified: Wed May 15 16:08:20 MET 1996


webmaster@ciger.be
Copyright © 1995 ciGersoft. All rights reserved.